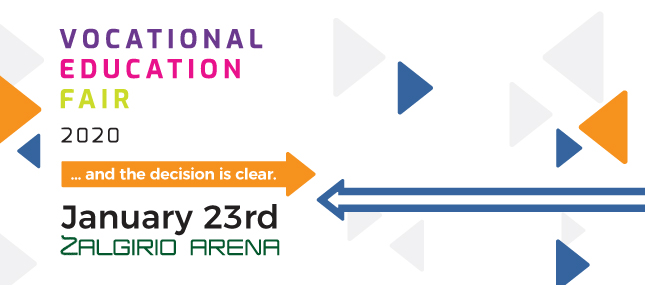 VOCATIONAL EDUCATION FAIR 2020
Date: 2020 January 23–23
Venue: Žalgirio arena, Kaunas
Open Hours: 10.00-16.00
The 3
rd
Vocational Education Fair invites students to find solutions on 23 January 2020 at Žalgiris Arena!
Choosing a study programme is a very great responsibility and is a complicated process that every young person has to go through. Therefore, having a clear vision of who you want to become and what you have to do in order to achieve your vision is essential. For this reason, young people must communicate with those who can help, because it is not only important to think about extending your knowledge and future prospects, but also about the best ways to utilise your existing talents and discover new ones.
The institutions that are planning to introduce their activities to the students this year include:
Vocational training institutions
Additional training institutions
Companies providing training courses
2019 EXHIBITIONS IMPRESSIONS
Visiting the Fair for Vocational Education shall be free of charge.
More information can be found at:
UAB "Ekspozicijų centras"
tel.: +370 37 331590, +370 618 45997
e-mail: amm@expo.lt
Exhibition sponsors and partners

Partner