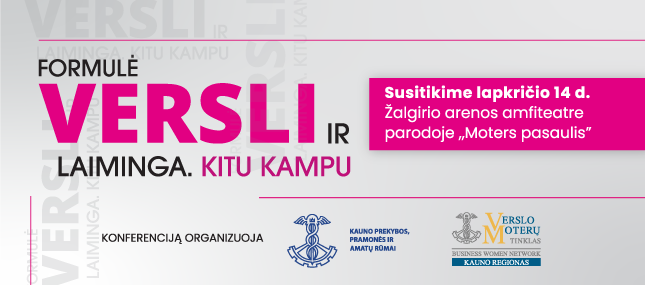 Conference for women "Formula: happy in business"
Exhibition: WOMAN'S WORLD 2019
Date: 2019 November 14
Time: 12:00 - 17:00
Venue: Žalgirio arena, amfitheatre
In this year's conference a look at ourselves – from a different angle:
What leadership concept can be beneficial and useful to women?
What strengths can women take advantage of in negotiations?
Why shareholders hire female directors?
What is women's point of view towards legal aspects, financial risks?
How to create a personal entrepreneurial image of a woman?
How to maintain optimal health in the age of hurry?
How does status affect body language, and body language the status? How does it influence communication?
Moderator: Livija Gradauskienė
More information: Daiva Vyšniauskienė, vmt@chamber.lt, 8 687 36240.