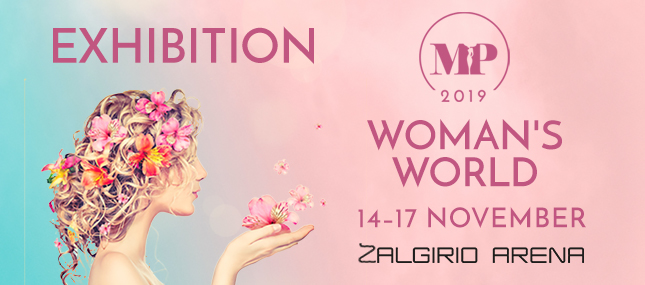 WOMAN'S WORLD 2019
Date: 2019 November 14–17
Venue: Žalgirio arena, Kaunas
Open Hours: November 14–16 10.00–19.00, November 17 10.00–17.00
IN WOMAN'S WORLD 2019:
400 companies will present the latest trends, products and services in the field of fashion, style and beauty!
CONFERENCE "Formula:  Happy in business"

(November 14)

Makeup Lessons - Anna Matveyeva (November 14)
"Lash & Brow Conference Lithuania 2019" for eyebrows and eyelashes masters(November 14)
Oleksandra Kuznetsova – Makeup Artist Lessons(November 15)
Seminars on beauty and wellness (November 15-17)
ART BATTLE – Mastery Contest for Hairdressers and Makeup Artists (November 16)
Fashion and beauty show – presentation of designers' collections (November 16)
Contest show LONG HAIRED WORLD 2017 (November 17)
Beauty Oasis
Topical workshops, corporate presentations
EXHIBITION THEMES:
BEAUTY:

• cosmetics, perfumery; • skin, hair, nails care products; • beauty salons, services.

FASHION AND STYLE

• textile production and knitwear; • clothes, footwear; • accessories, haberdashery; • jewellery, bijouterie.

WOMAN'S HOBBIES

• leisure, sport; • wellness.
.
2019 exhibition
For further details please contact us +370 37 79 29 85 or email moterspasaulis@expo.lt