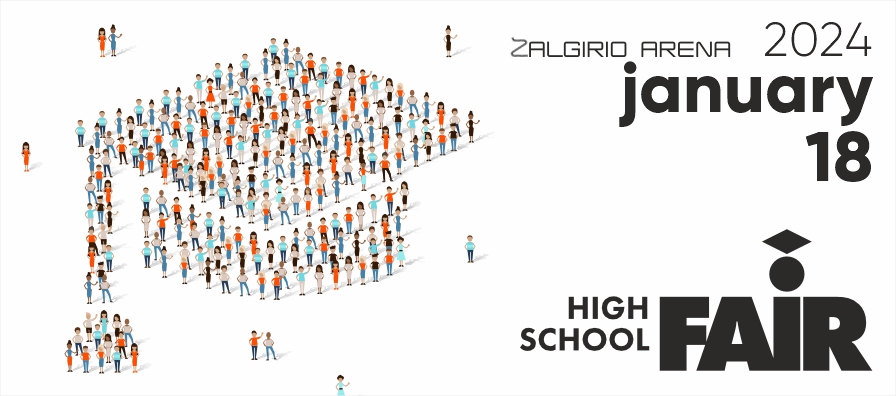 HIGH SCHOOL FAIR 2024
Date: 2024 January 18–18
Venue: Zalgirio arena, Kaunas
Open Hours: from 10 AM to 5 PM.
Lithuania's "High School Fair 2024" – it is probably one of the most welcome events for future and current students of high education, their parents and teachers. During this fair, visitors will have a great opportunity to meet almost all the high educational institutions of Lithuania all in one place. There will be universities, colleges and other types of higher education institutions from all over the country.
The Lithuania's "High School Fair 2024" will take place on the 18th of January, 2024 at "Zalgirio" arena, Kaunas, Lithuania. Every year, this high education fair attracts thousands young people from all over Lithuania. Most of them are in the last year of high school. Nevertheless, younger students and their teachers or parents are also keen to visit this event. And the most important thing: this event is free to enter!
What will you find at the "High School Fair 2024"?
All day long, visitors will be provided information materials and recommendations through representatives of the universities and colleges at the exhibition stands. Also, universities and colleges and other types of higher education institutions from all over Lithuania will present their innovations here.
The visitors will be familiar with the novelties of higher education institutions, admission conditions, study programmes to be offered, subjects to be delivered, international exchange programmes and opportunities of practice and career after completion of the studies.
The students will share their experiences and will tell about the public activities of the students. About their spare time, studies and possibilities to go for studies or placement to higher education institutions that are partners abroad.
The Trade fair for Higher Education will also include a variety of events: discussions, presentations, training sessions and recommendations.
For further details about the fair, please contact Project Manager Lina Bimbirienė, mob. +370 612 40060, el. p.: amm@expo.lt.
Organizer:
"Ekspozicijų centras", JSC.