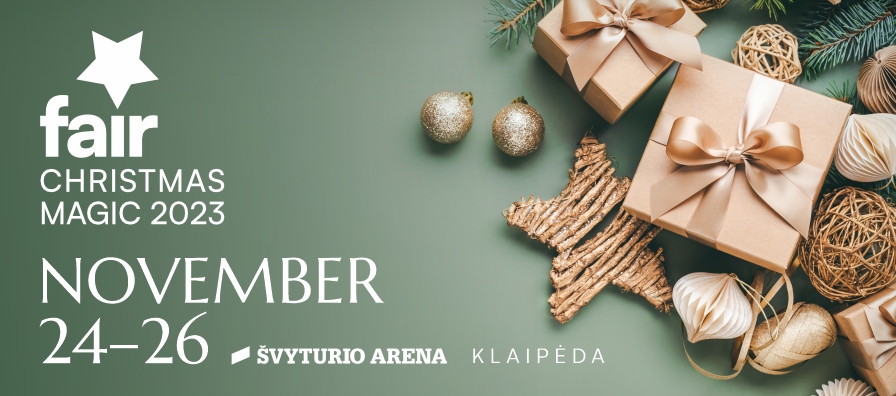 CHRISTMAS MAGIC 2023
Date: 2023 November 24–26
Venue: Švyturio arena, Klaipėda
Open Hours: November 24-25, 10 AM - 6 PM, November 26 d. 10 AM - 4 PM.

At the fair "Christmas Magic 2023" – you will find Christmas gift ideas, decorative items and festive treats. The event will take place from the 24th to 26th of November, at :Švyturio" arena, Klaipėda.
It's never too early to start preparing for the magic season of Christmas and to amaze your loved ones. Because of that, the fair "Christmas Magic 2023" is a great opportunity to make your Christmas present hunt much easier, to discover unique and unseen goods, to find sweets and treats for your festive table. All and every visitor there will find something according to their needs: from unique decorations for a Christmas tree, your home or table,  lovely gifts, food, sweets and snacks.
At the fair "Christmas Magic 2023":
three days of the hottest trends in Christmas decorations, designs and colours of the year;
a huge variety of gift ideas and purchases;
special offers for visitors – best prices only here;
visitors of "Christmas Magic 2023" will also be able to visit an exhibition for fashion, style and beauty, "Lady code 2023".
Themes of "Christmas Magic 2023":
Christmas gift ideas: special Christmas offers, gift wrapping tools and products, Christmas clothes and accessories;
Christmas decorations: interior decorations, festive table design, Christmas trees and decorations;
Christmas treats and beverages: sweets, snacks, baked goods, tea, other soft drinks.
For further details, please contact us: +370 37 792985 or klaipeda@expo.lt.
Organizer:
"Ekspozicijų centras", JSC.