Information for exhibitors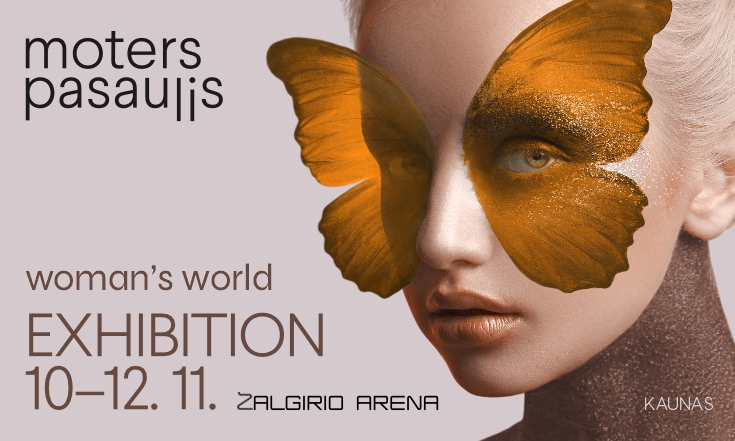 (LT) MOTERS PASAULIS 2023
Date: 2023 November 10–12
Venue: Zalgirio arena, Kaunas
Exhibitor's Registration: till the 20th of September, 2023.
The exhibition "Woman's World 2023"– the 20th annual specialized trade exhibition dedicated for fashion, beauty and style.
On behalf of "Ekspozicijų Centras" JSC, we would like to invite your company to take part in the specialized exhibition "Woman's world 2023". The event will take place at Kaunas "Zalgirio" arena, Kaunas, Lithuania on the 10-12th of November, 2023.
Take part in the WOMAN'S WORLD 2023 exhibition to benefit from:
being at the heart of market innovations;
investing in the future and long-term advertising;
the opportunity of growing your company and products;
reaching your entire target audience in one place;
gaining a better insight on your competitors;
finding partners for advantageous business deals.
In "Woman's World 2023":
the latest trends, products and services in the field of fashion, style and beauty!
fashion and beauty show – presentation of designers' collections;
fopical workshops, seminars, corporate presentations, consultations;
the latest worldwide beauty and fashion trends;
useful contacts and cooperative relationships;
present activity of your company;
new ideas and your product buyers, existing and potential;
reaching your target audience;
"Professional Days 2023" - conferences, competitions, seminars and trainings for beauty professionals;
traditional contest - show LONG HAIRED WORLD 2023.
"WOMAN'S WORLD 2023" – A PLACE FOR THE BEST IDEAS!​
EXHIBITION THEMES:
BEAUTY: cosmetics, perfumery; skin, hair, nails care products; beauty salons, services.
FASHION AND STYLE: textile production and knitwear; clothes, footwear; accessories, haberdashery; jewellery, bijouterie.
WOMAN'S HOBBIES: leisure, sport; wellness.
Exhibition "Woman's World 2023" -  exclusive attention towards potential customer and ongoing communication. The consultation itself, provided during the exhibition, can be a decisive factor for visitor to choose your product or services.
KINDLY INVITE YOU TO PARTICIPATE!
For further details please contact us: +370 37 79 29 85 or moterspasaulis@expo.lt.