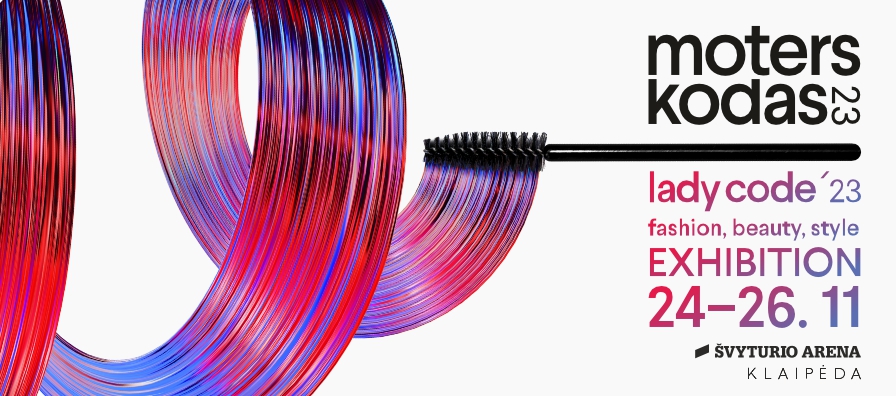 LADY CODE 2023
Date: 2023 November 24–26
Venue: Švyturio arena, Klaipėda
Open Hours: TBC
EXHIBITION "LADY CODE 2023" – it's an event for fashion, style and beauty, all dedicated to women. The event will take place in Švyturio arena, the city of Klaipdėda. This event – it is not only an exhibition, it is also a great and special occasion for every woman, where great news, special offers, amazing fashion and beauty events will take place.
Date and time: November 24-26. Klaipėda's "Švyturio arena" (Dubysos str. 10, Klaipėda).
During the exhibition of fashion, style and beauty "Lady code 2023", visitors will be able not only to buy goods and services at great prices, but also could get valuable and free of charge consultations, can attend specified trainings for beauty professionals. Visitors to an exhibition can also attend other events, presentations, and workshops free of charge.
At the exhibition "Lady code 2023" you will find:
three days of the most up-to-date fashion, style and beauty news;
exclusive offers for your perfect Christmas presents;
events for fashion and beauty, designers' shows;
conferences, beauty events, seminars.
Topics of the exhibition:
beauty: professional and decorative cosmetics, natural cosmetics, haircare and nailcare products, beauty salons, massage salons, cosmetology, permanent make-up, equipment for salons;
fashion, style: textile, knitwear, leather, fur, designer services, jewelry, haberdashery, bijouterie, footwear.
hobbies: leisure, sports, wellness.
For more information, please contact us at: +370 37 792985 or klaipeda@expo.lt
Organizer
UAB "Ekspozicijų centras"