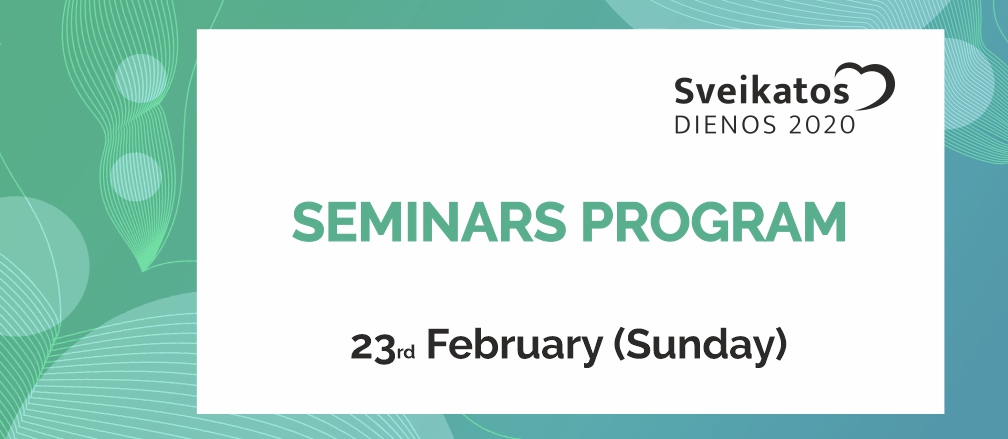 Seminars Program on Sunday
Exhibition: WELLNESS DAYS 2020
Date: 2020 February 23
Time: 10.30 a.m.-4 p.m.
Venue: Conference Halls
The seminars will be held in Lithuanian.
(Hall 2) The new coronavirus: is it only dangerous in the media?
Prof. Dr Saulius Čaplinskas, Director of ULAC
(Hall 3) How to harmonise physical health by changing one's worldview. A lecture with love-awakening meditation
Robertas Karvauskas, Lecturer and Founder of the mindfulness school GYVENIMO RYTAS
(Hall 2) Chemical air pollution: research, pollution and consequences
Gintautė Gelumbauskienė, Director of Chemical Research at the National Public Health Laboratory
(Hall 4) Toxicosis and de-toxicosis. The consequences, ranging from joint trauma to skin problems. Solutions of Nimbus Performance
Igoris Oprisko, Certified Personal Trainer, Nimbus Performance Europe
(Hall 2) Smile – the woman's business card. Veneers or aesthetic fillings?
Milda Matevičiūtė, Odontologist-Orthodontist at Dantų estetikos klinika
(Hall 3) The aloe vera products in your home pharmacy
Ramūnas Kalpokas and Daiva Vaikšnorienė, representatives of FLP Company
(Hall 4) Health benefits of the neurofeedback method
Egidija Talalienė, Psychologist-Psychotherapist, Mindfulness and Neurofeedback Coach
(Hall 2) Tooth whitening – effective, safe and long-lasting
Sandra Čepulkauskienė, Dental Hygienist, Dantų estetikos klinika
(Hall 3) Eastern massage – how can you stay healthy?
Dovilė Antulevičienė, Instructor, Massage Therapist, Coach, Virginija Čalkienė, Physiotherapist, Massage Therapist, Daiva Sungailienė, Instructor, Massage Therapist
(Hall 2) How to recover health by using bioresonance technology
Lina Pakalniškienė, Founder of the Harmoningi Žmonės community, Bioresonance Specialist, NLP and Coaching Practitioner
(Hall 4) Deep meditational experience and state training in movement, yoga, qigong, ci-gun, dance, breathing, meditation and self-massage
Arūnas Jonuškis, Leader of the Kelias į save Club
(Hall 4) Sujok therapy - a possibility to create a miracle. Diagnostics and pain management by using points in the palm
Arūnas Jonuškis, the Leader of the Kelias į save Club