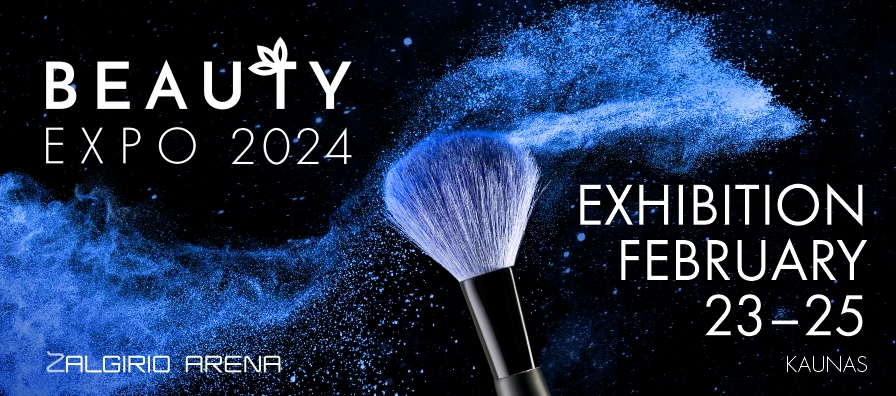 BEAUTY EXPO 2024
Date: 2024 February 23–25
Venue: Zalgirio arena, Kaunas
Open Hours: February 23-24th from 10.00 AM. to 6:00 PM., February 25th,from 10.00 AM. to 4:00 PM.

The well-know quotation "The world will be saved by beauty." represents the famous and loved exhibition "Beauty Expo 2024" as it best. On the last weekend of winter, on February 23-25th the specialized exhibition for beauty professionals and lovers will take place at Kaunas "Zalgirio" arena, Kaunas, Lithuania.
This exhibition is oriented towards beauty specialists, working on make-ups, hair coloring and haircuts, manicure and pedicure, nail designs, eyebrows, lashes and other products on services for beauty. Products and service providers from Lithuania and abroad at the "Beauty Expo 2024" will represent their best and trending products. As well as  the most innovative and attractive services to create and maintain youth and beauty. Despite the fact that this exhibition is mostly oriented at professionals from a beauty sector, all the beauty, hair and makeup and other beauty products lovers will find something for themselves.
At the exhibition "Beauty Expo 2024" visitors will find:
the newest products in the market for hair care;
worldwide popular make-up brands and products;
highest quality face and body care products;
manicure and pedicure tools and services;
eyebrows and lash products, tools, services;
perfumes for hair and body;
jewelry and bijouterie.
Real beauty is possible only by having a great harmony between body and mind. On the 23-25th of February, all the visitors of the exhibition "Beauty Expo 2024" could also visit the exhibition "Wellness Days 2024" free of charge. The exhibition "
Wellness Days 2024
". The exhibition "Wellness Days 2024" is the biggest event in Lithuania, introducing the current innovations in the health sector as well as up-to-date solutions in medical treatment, rehabilitation, healthy lifestyle and even natural medicine. More information about this exhibition:
HERE
.For further information, please contact us: 
 8 37 331590
or
beauty@expo.lt.
Organizer:
"Ekspozicijų centras", JSC.